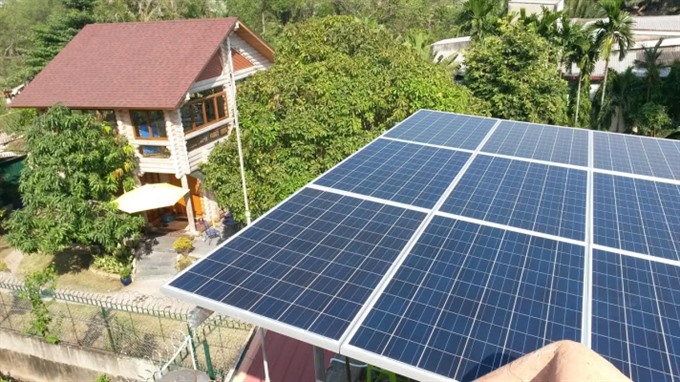 Solar panels installed on houses in HCM City. According to experts, HCM City and the Mekong Delta are the biggest potential locations for generating renewable energy, especially from the sun and agricultural waste. — Photo ves-vn.com
Viet Nam News
HCM City — Smart energy is one of the most important factors in making over HCM City as a smart city, especially in the context of climate change, a seminar heard on Friday.
"Smart city development should include the ability to deal with environmental challenges and clean energy technology solutions will play a very important role," Prof Dr Nguyễn Ngọc Giao, chairman of the city Union of Science and Technology Associations, said while opening the seminar.
Phạm Trần Hải from the city's Development Research Institute said: "To efficiently use energy and to produce renewables, the city should mobilise contributions from various industries."
HCM City and the Mekong Delta are the biggest potential locations for generating renewable energy, especially from the sun and agricultural waste.
The Government is promoting renewable energy and has set a goal of 10 per cent of total power generation coming from renewables by 2030.
"I would like the Government to focus on increasing the level because in 2016 Việt Nam and 47 other nations signed a pledge to have renewables accounting for 100 per cent of energy generation by 2050," Hoàng Thị Minh Hồng, director of the Centre for Hands-on Actions and Networking for Growth and Environment (CHANGE), the seminar organiser, said.
"I expect that HCM City, with its geographic, climatic, economic, technological and human resource potential, will lead the nation in renewable energy."
CHANGE tabled its "Put Solar On It" plan for encouraging households and organisations to put solar energy panels on their roofs.
The plan will organise seminars with leading experts on solar energy, community activities in residential areas, persuade renewable energy companies and banks to support with low prices and loans, persuade the HCM City Electricity Corporation and relevant authorities to offer incentives for installing solar panels and linking up with the national power grid.
"The most important factor to develop smart energy is human resources. In 2017 Solar BK company set up at the HCM City Polytechnic University the first place [in the country] where people can experience the use of clean energy, where young people who love clean, renewable energy can come and study," Nguyễn Thùy Ngân, brand director of Solar BK, said.
The seminar is a part of CHANGE's long-term strategy to promote renewables in HCM City and other major cities.
Last year HCM City consumed around 22 billion kWh of electricity, 15 per cent of the country's national use.
The city set up a Steering Committee for Electricity Saving and Supply in 2007.
The "Family saving electricity" programme has been running for seven years with the participation of two million consumers.
"The city is soliciting more investment into waste burning and electricity generation and planning to develop solar energy on rooftops with 200MW by 2025," Nguyễn Phương Duy of the city Department of Industry and Trade said.
"In 2011-17 the city saved 3.1 billion million kWh and reduced 2.039 billion tonnes of CO2."
The city plans to have 0.8 per cent of electricity from wind by 2020, 1 per cent by 2025 and 2.1 per cent by 2030.
For solar, the targets are 0.5 per cent, 1.6 per cent and 3.3 per cent.
They are 1 per cent, 1.2 per cent and 2.1 per cent for biomass. — VNS
Nguồn: vietnamnews.vn