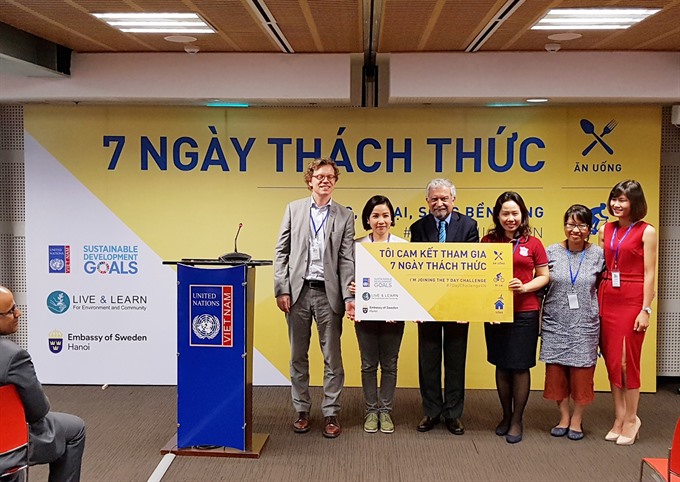 UN Resident Coordinator in Việt Nam Kamal Malhotra (third from left) holds a sign expressing Việt Nam's commitment to the "7 Day Challenge" campaign at the launch ceremony in Hà Nội on Tuesday. — VNS Photo Bảo Hoa
Viet Nam News
HÀ NỘI — A campaign that promotes maintaining a sustainable lifestyle in urban environments was launched in Hà Nội on Tuesday.
Titled "#7 Day Challenge," it encourages participants to practise ways of eating, moving and living without causing damage to the environment over the course of a week.
The campaign aims to raise awareness on lifestyle choices and the impact of these choices on the environment.
It is run by the United Nations in Việt Nam in collaboration with the Embassy of Sweden in Việt Nam and the Live & Learn environmental education organisation.
Each participant of the campaign chooses one or more sustainable actions to maintain over the seven-day period, such as eating homegrown vegetables, using bicycles instead of motorbikes or switching off lights when not using them.
Participants are encouraged to take photos of their efforts, upload them to their personal social media profile and use the hashtag #7DayChallengeVN so that the campaign's organisers can document their progress.
The campaign is divided into three periods: April 10-17, April 17-24 and April 24-30, 2018.
Speaking at the launch ceremony, Kamal Malhotra, UN Resident Coordinator in Việt Nam, said the actions by the campaign's participants would help contribute to the UN 2030 Agenda for Sustainable Development, especially to four of the UN Sustainable Development Goals: good health and well-being, clean water and sanitation, sustainable cities and communities, and responsible consumption and production.
"These goals sound ambitious, but if we – the 7 billion people on this planet – can eat, move and live sustainably, we will be creating the changes that will contribute to the achievement of these goals," he said.
It was necessary to have these sustainable efforts developed in Việt Nam since Hà Nội's average level of air pollution in 2017 was four times in excess of the acceptable level of the World Health Organisation, and Việt Nam was among the five countries that contribute to 50 per cent of the plastic in the world's oceans, he said.
Đỗ Vân Nguyệt, director of Live & Learn in Việt Nam, said she hoped the challenge would not end after seven days but would help participants develop new good habits.
"I hope this is an experience that will leave participants concerned and worried [about environmental pollution]," she said. "Big changes will happen when they are able to turn their concerns into action."
Phạm Khánh Phương, a student from the Experimental Secondary School in Hà Nội, who learned about the challenge through her school, said "it is an interesting initiative that is good for the environment".
"I will bike to school and refrain from littering in the next seven days," she said. — VNS
Nguồn: vietnamnews.vn