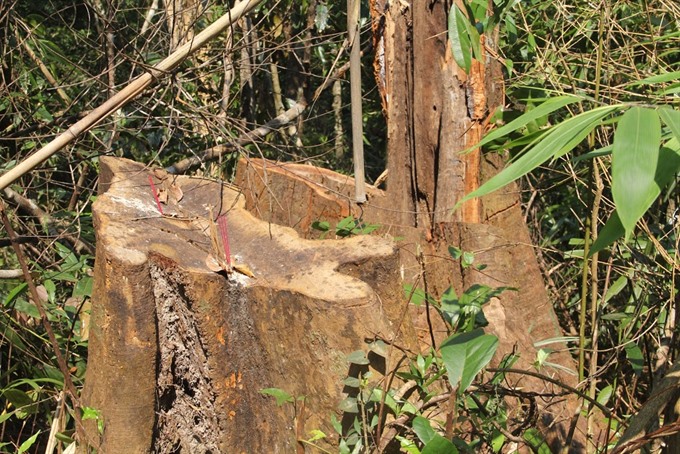 A chopped down tree in Quảng Nam Province. Illegal logging was discovered in the special-use forest of Sông Thanh in late March. — VNS Photo Trần Thường
Viet Nam News
QUẢNG NAM —An illegal logging site has been found in an area of forest near the Sông Thanh Nature Reserve, in what was the third recorded case of logging violations in March in Quảng Nam Province.
Head of the Sông Thanh Forest Protection Unit, Đinh Văn Hồng said that the case occurred in late March. A combined investigation team of forest protection units, border guard forces and the Sông Thanh Nature Reserve Management Board identified that the special-use forest was being destroyed at three plots near Pà Xua village of Ta Bhing commune, in the mountainous district of Nam Giang.
He said the team continued the investigation to evaluate the damage of the logging.
Hồng said that 42 violations and logging cases had been found in the area since the beginning of January and that a total 20 cubic metres of logs and more than 400kg of forest products such as wild animal meat and endangered herbs had been seized.
He said that the investigation agency had been tracking a hunter that reportedly killed a gray-shanked douc langur (pygathrix cinerea) – a species of monkey that is currently listed as critically endangered, with unlimited protection status in the world by the International Union for Conservation of Nature (IUCN).
In 2017, local rangers found 100 cubic metres of sawn log in the special-use forest over a period of six patrols. They also dismantled five illegal logging camps.
The Sông Thanh Forest Protection Unit has only 15 rangers to patrol and protect 75,000ha of the special-use forest.
The area is surrounded by 90km of the Hồ Chí Minh Trail and 70km of National Highway 14B. A 100km section of the Sông Thanh River also runs through the forest.
Last month, two cases of illegal logging were discovered in the province's Đông Giang and Nam Giang districts in March, with 77 big trees chopped down (about 300 cubic metres of log).
Last September, an area of 110ha of protected forest was illegally cut down in Tiên Phước District's Tiên Lãnh Commune.
The Sông Thanh Nature Reserve, which covers a total of 201,647ha in Nam Giang and Phước Sơn districts, is home to 831 species of flora and fauna, including 38 species listed in the Red Book of Việt Nam.
The reserve, which shares a border with Laos, has been known to house tigers, elephants, leopards, and grey-shanked and red-shanked douc langur monkeys - both primates are listed as critically endangered by the IUNC. — VNS
Nguồn: vietnamnews.vn