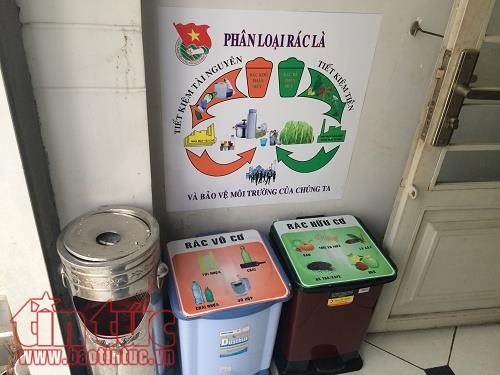 Waste should be segregated to ensure it is properly treated. — Photo baotintuc.vn
Viet Nam News
HCM CITY — While segregation of garbage at source is considered a good way to minimise its effect on the environment, HCM City is facing many challenges in its implementation.
Addressing a conference held to review the implementation of waste segregation through treatment over the past nine months, Trần Vĩnh Tuyến, vice chairman of the city People's Committee, said garbage segregation at source would help generate energy and fertilisers without polluting the environment.
He said the People's Committee had recently called for investment to turn waste into electricity at Gò Cát and Đông Thanh landfills.
Đậu An Phúc, vice chairman of District 12's People's Committee, said only 30 per cent of households in the locality segregated waste despite the programme being implemented since 2015.
The main challenge was that people were not used to segregating waste at source, which created problems for private waste companies in collection and treatment.
Lý Văn Hòa, chairman of BảoTín Co-operative, one of the garbage collecting companies in Hóc Môn District, said private waste collectors were yet to fully understand the importance of segregating waste at source. Meanwhile, the co-operative was lacking funds to invest in a garbage-collecting vehicle.
Currently, co-operatives have over 100 vehicles for collecting and transporting waste. To replace all these vehicles, they have to invest up to VNĐ50 billion (US$2.2 million), quite a huge sum for even private collectors. On the other hand, the fee for collecting waste is quite low and is not enough to ensure affordable income for sanitation workers.
Lê Minh Huệ, a resident of Phú Nhuận District, blamed the ineffectiveness of waste segregation on public companies.
After being convinced to practise waste segregation, many families had started segregating garbage at source. Waste collectors, however, tended to dump all the garbage in the same vehicle.
According to Huệ, households participating in waste segregation initially received free plastic bags of different colours to segregate the waste. However, after sometime, people stopped receiving the bags, so they started using bags available at home, making it difficult for garbage collectors to distinguish the waste.
Solutions
To improve the effectiveness of the waste segregation programme, Trần Thị Mỹ Diệu, head of Văn Lang University, called for stronger public awareness on the importance of waste treatment and environmental protection. All stages of the programme -- from segregating waste and collecting it to transporting waste and treating it -- should be well-coordinated, she said.
Regarding the replacement of garbage collecting vehicles at source---another issue that needs to be resolved-- Đặng Quế Hùng, director of An Lạc Automobile Mechanic Enterprise under the Sài Gòn Transportation Mechanical Co-operation, said the enterprise had successfully manufactured a special vehicle that could be manoeuvred in narrow alleys and was useful in collecting solid waste. He said the enterprise was calculating the expense so that it would be cost-effective, creating favourable conditions for private waste companies to upgrade their equipment.
Trương Thị Ánh, vice chairwoman of the municipal People's Council, proposed the city authorities to soon issue a decision on the fee for waste collection as well as the management of waste collectors. Capital support should be given to private garbage collecting companies who want to modernise their equipment and vehicles, she said.
It is also necessary to impose due punishment on households, localities and collectors who fail to segregate garbage at source while encouraging those who segregate waste, Anh said.
Nguyễn Toàn Thắng, director of the Department of Natural Resources and Environment, said the department would collaborate with its sub-departments in intensifying inspections into the implementation of waste segregation at source and dealing with violations in accordance with the Government's Decree 155 on sanctioning administrative violations with regard to environment.
In addition to this, the department will provide loans with interest rate subsidies, sourced from the Environmental Protection Fund, with only 4.9 per cent per annum to enable private companies to upgrade waste collection equipment and vehicles. — VNS
Nguồn: vietnamnews.vn