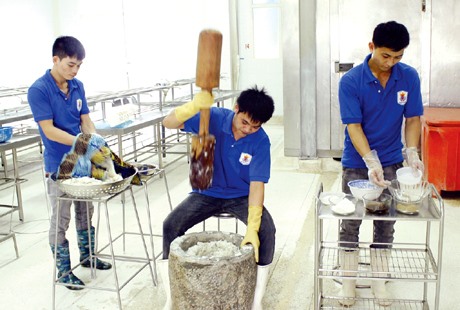 Crunch: Workers grind chả mực in Hạ Long City. Photos monngonquangninh.com
Viet Nam News
By Hồ Hoàng
Visitors of Hạ Long City can enjoy fresh seafood to appease their hungry stomachs, but they can also enjoy the local speciality of chả mực — fried ground squid cakes. The dish was voted one of the country's top 10 tastiest dishes by Asian Record.
Local Bùi Văn Mừng, 80, said that nature has given many special gifts to Hạ Long Bay, including squid with a buttery, chewy soft and aromatic flavour. Squid in the central and southern regions are much more salty compared with the Hạ Long variety, he said.
Mừng recalled the squid cakes made by his mother some 20 years ago."She would wake up very early in the morning to go to the beach and wait for a boat from offshore to come in. She'd buy the thick squid and bring it home to grind it in a stone mortar.
"The grinding process is very important. The grinded squid should not be too well-kneaded, but rather must still have several lumps present to ensure the crispy texture of squid cakes," said Mừng, adding that his mother mixed the grinded squid with pepper and quality fish sauce before shaping it into thin balls and frying it.
"Our mouths were watering when we saw the fried yellow squid cakes, but my mother told us that first the dish should be used for worshipping our ancestors."
"Finally, after half an hour of tormenting wait, we were allowed to tuck into the dish. It is sweet with an aromatic flavour, and has a crispy and crunchy texture," he said.
Thanks to his mother, he and his six siblings know how to make squid cakes very well.
History of squid cakes Hạ Long
Mừng recalled the story of squid cakes: During the 1940s, a local chef from Hòn Gai Town [now Hạ Long City] called Tài Lễ owned a restaurant with his wife, the main dish being fried squid. As time went on the restaurant received less and less customers, so in an attempt to turn things around, the couple invented squid cakes.
The dish lured in both locals and visitors, and business boomed.
The dish wasn't born over night though, the couple tried various recipes up to 1946, when it finally reached perfection.
In 1954, the couple handed the restaurant down to their sons, who began selling squid cakes in Hạ Long Market. Their food was a best seller in the market for almost 25 years, before one of the sons died.
The remaining son Tài Khang had another go at the job in 1982, "This time he made the squid cakes more sweet and crispy compared with his parents recipe," said Mừng.
When Khang died in 1994, his children continued to make squid cakes, right up to the present day. Khang's business Hoài Phương is one of the biggest squid cakes suppliers in the city.
In 1993, Hòn Gai Town had its name changed to Hạ Long City. Since then the dish has been known as chả mực Hạ Long.
Nguyễn Thu Ngà, a visitor from the northern province of Cao Bằng, said her family loves squid cakes, especially from Hoài Phương.
"The hand-made squid cakes here is crispy and delicious. We often eat the dish with xôi (white sticky rice) or bánh cuốn (steamed rice rolls) dipped into fish sauce from Quảng Ninh. It's very nice!" said Ngà.
She said that sometimes she tries to make squid cakes at home, but she can't make it in the same way, because in her home province of Cao Bằng there is only frozen squid available.
"I have to order the dish from Hạ Long and have it shipped to me once a month," she said.
Herbalist Trần Văn Vinh from the Quảng Ninh Centre of Traditional Medicine noted that fresh squid contains protein, fat, iron, zinc, and magnesium, making it a healthy choice to put on the dinner table.
"The nutrients in squid help to promote a strong immune system," said Vinh, "particularly with regard to clearing the body of radiation. Many ailments are treated using medicine made from squid."
The presence of omega 3 in squid helps to reduce the chance of heart disease and lowers blood pressure. Healthy fatty acids in omega 3 can also help to improve muscle, eye and brain health. It is also frequently recommended to be consumed by pregnant women.
He warned however that those faced with heavy gout aliment should not eat seafood, including squid, due to the heavy presence of protein in it. — VNS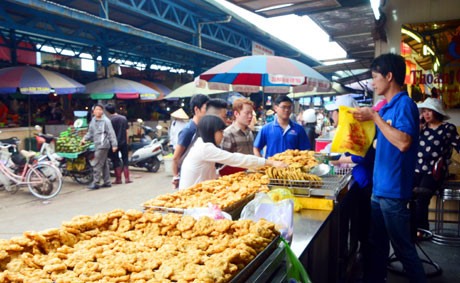 Big business: Chả mực Hạ Long for sale.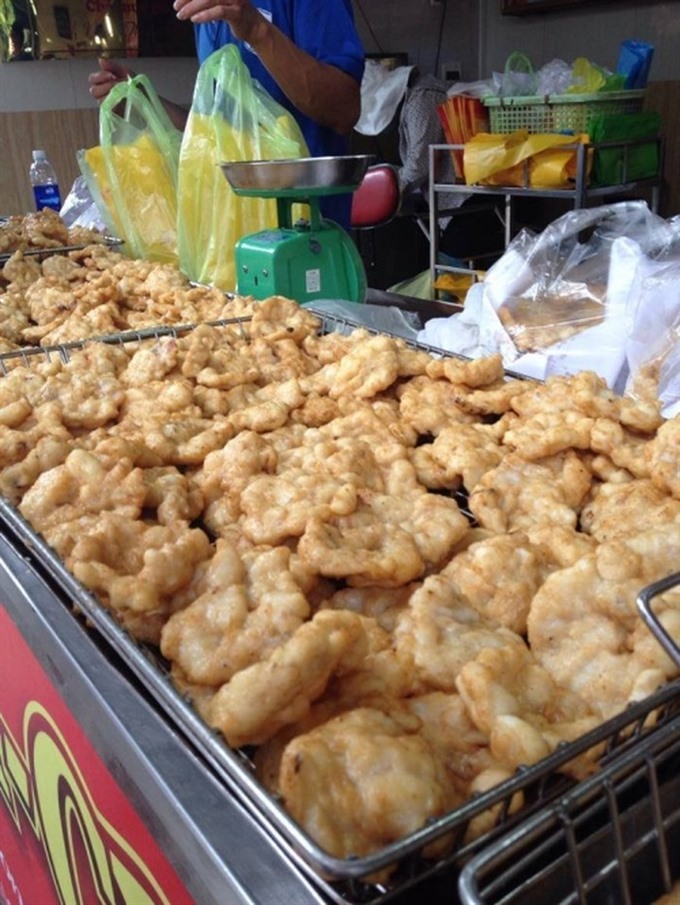 Money maker: Yellow grinded chả mực sells very well in Quảng Ninh's Hạ Long City.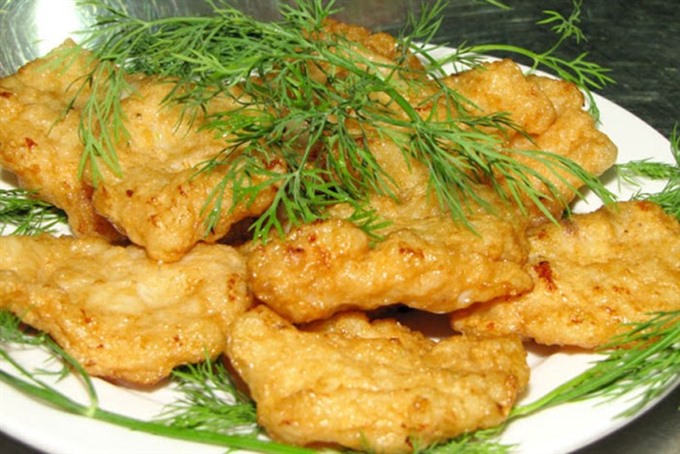 Delicious: A plate of chả mực will make customers' mouths water.
Nguồn: vietnamnews.vn