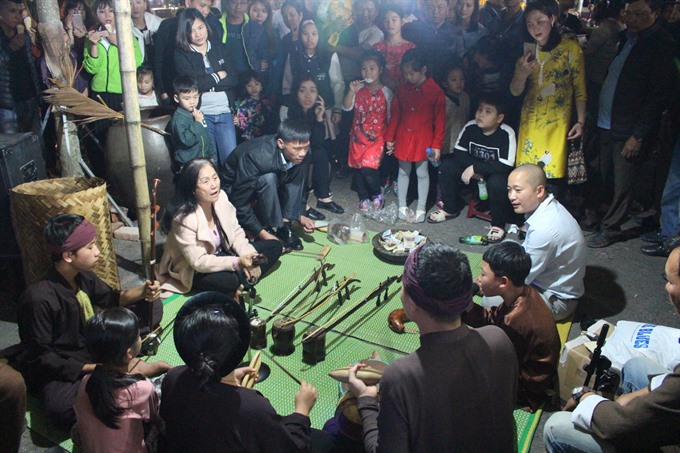 Admiration: Crowds gather to watch a chiếu Xẩm performance at the traditional festival in Lê Chân District, Hải Phòng City in March. — VNS Photo Hân Minh
Viet Nam News
by Mai Khuyên and Hân Minh
HẢI PHÒNG — Xẩm (blind busker's singing) is on the way to revitalisation in the northern port city of Hải Phòng since more and more local people and tourists are coming to admire the traditional musical art.
Over the past two years, performances of the folk music have appeared in celebrative events and cultural festivals in the city, as well as in surrounding localities. Common venues are pagodas and temples, and even in family parties.
Known locally as chiếu Xẩm, it is a group of three or five traditional musicians performing on a mat in the public places including parks and cafes.
Hà Quang Huy, 42, a visitor from Hà Nội said that he was impressed by a Xẩm singing festival held last weekend at the Hào Khê cultural communal house in Hải Phòng's Lê Chân District.
The show was held to pay tribute to Xẩm ancestors and to commemorate the 6th festival of the traditional musical art in the city.
The event gathered many Xẩm groups from northern regions including Hà Nội and the provinces of Quảng Ninh, Thái Bình, Bắc Ninh and Ninh Bình.
Huy said that was the first time he'd watched such a folk performance held outdoors in a public space, and it made him very excited.
"I had watched it on the television from time to time and seen it on social networks, or listened to it on the radio, but watching it directly was amazing," said Huy.
The tourist said he and all of his accompanying friends who watched the show found the singing to be unique and special, and very different from the modern music that is popular today.
He hopes to have more chances to admire it whenever visiting the coastal city.
Nguyễn Văn Sơn, 70, a citizen from Hải Phòng's Ngô Quyền District who was one of the many frequent viewers of the folk singing, said he'd been fond of the singing since he was a child, but hadn't had the chance to watch it for a very long time. This all changed in 2015.
He said that in modern life, with the boom of globalisation, some traditional musical performances had been ignored. The Xẩm singing has made a stand to reemerge in the last two years.
"It's really good news for the many traditional music lovers like me," said Sơn.
The reappearance of chiếu Xẩm and many other styles of folk music interested him so much that whenever there was a show, he would be sure to come along to admire, said Sơn.
The faithful fan of the folk singing said the music and words in each of its artistic episodes was full of ethical and traditional messages.
"All of them can touch deeply inside our souls," said Sơn.
The increasing number of active fans of Xẩm singing in Hải Phòng has stirred a wave among folk musicians looking to recover and preserve it. Among them is Đào Bạch Linh, 37, a young Xẩm singer and head of the Hải Thành Xẩm Club in Hải Phòng.
Linh said an increasing support and passion from the people in the city had encouraged him to try to perform the musical art.
"Whether they are held indoors or outdoors, in public places or cafes, all of the chiếu Xẩm performances attract a large crowd," he told Việt Nam News.
The performer said that sometimes he would keep playing until midnight, repeating his set again and again, and the audience didn't get bored of watching.
Spectators of the performances tend to include people of all classes, ages, genders and occupations, he said. Often they join in and sing along with him.
The Hải Thành Xẩm Club, founded in 2013, is the first club to support old style Xẩm singing in Hải Phòng. With more than 20 members, the club regularly performs at festivals and celebrations in the city.
"To have the club operating professionally and regularly like it does now meant overcoming many challenges in the first days of its establishment," said Linh.
Linh's friends and audiences refer to him as Linh Xẩm, in honour of his contribution to the preservation of the traditional music.
Linh said he'd known about the traditional folk songs since he was at university, where he first heard it listening to the radio station, Voice of Việt Nam.
From then on he was inspired to learn the art of folk music and he enrolled in classes at the Việt Nam Musical Development Centre.
He went as far as to visit the home of Hà Thị Cầu - the well-known late folk singer from the northern province of Ninh Bình, to ask for her help to study Xẩm.
Linh said it took several years for him to follow in the steps of Cầu and many others old Xẩm singers from different areas across northern Việt Nam.
Along with the operations of the Hải Thành Xẩm Club, Linh worked as volunteer teacher for a Xẩm singing class in the city's school of disabled students.

The art of Xẩm folk music in Hải Phòng has been popular since the early 20th century, according to Linh. It began as a way for the city's many poor residents to make a living.
The music was close to being lost from memory, until around 2005, when the State and city cultural authorities promoted a campaign to restore and preserve it. — VNS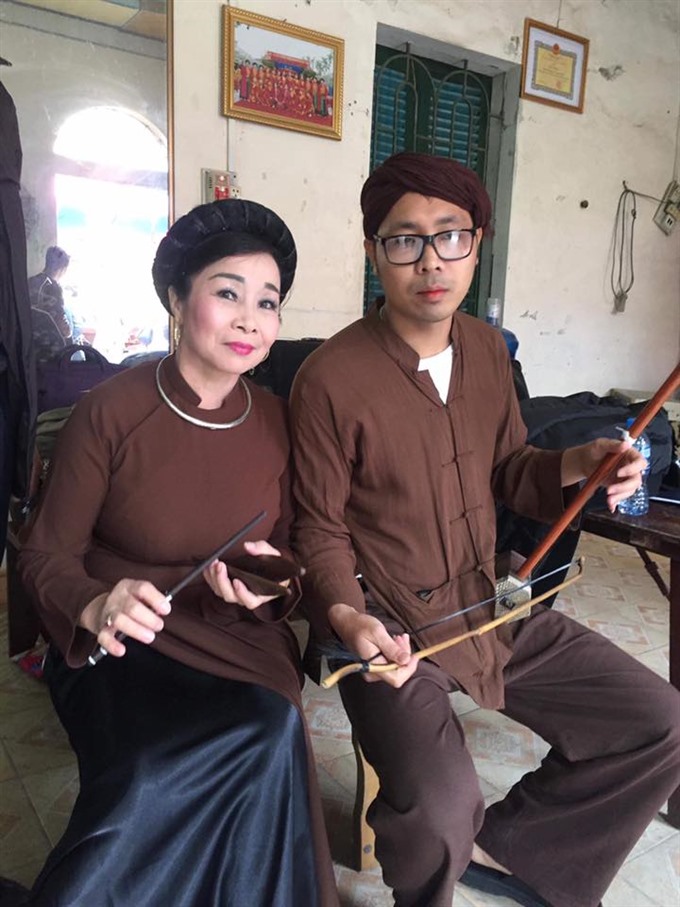 In person: Xẩm performer Đào Bạch Linh (right) and a member of the Hải Thành Xẩm Club. — Photo coutesy of Đào Bạch Linh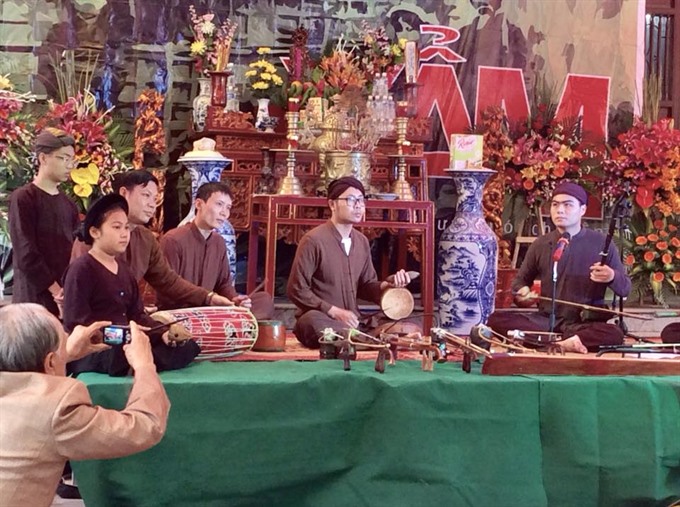 Preserving culture: A typical performance of Xẩm singing. — Photo courtesy of Đào Bạch Linh
Nguồn: vietnamnews.vn