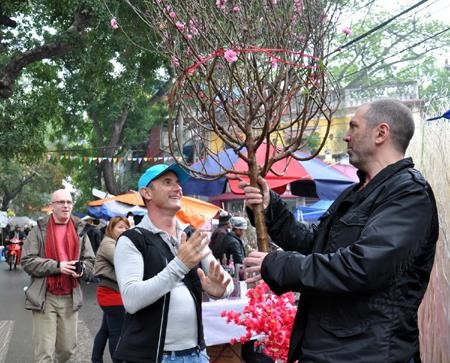 Expats in Vietnam buy peach flower trees for Tet decorations

For almost every Vietnamese person, the traditional lunar New Year is an occasion for family reunion. Foreigners married to Vietnamese people also understand the importance of this occasion to their partners.
This year, Pierre Bourndain of France has welcomed the 7th Tet in Vietnam with his wife Dang Thu Lan. Bourndain says he loves the relaxing moments of Hanoi during the first days of the lunar New Year when the streets are tranquil. He calls such experiences with his wife a simple happiness.
"There's a lot of praying, visits to the temple. I like the traditional way, and I like spending time with my Vietnamese relatives. We're staying a few days in Hanoi to visit the family, the relatives, to go to different houses, to bring the "li xi" to the kids.", said Bourndain.
Bourndain's wife, Thu Lan, was born in a traditional family in Hanoi and thanks to this, the French man has learned a lot about the Tet customs and celebrations. Bourdain says he is excited to go shopping ahead of Tet, to receive lucky money from older people, and to cook both Vietnamese and European food for their family and friends on the occasion.
"We'd like to gather our friends in our home. We'll welcome a lot of people, the family, the kids. We're gonna share good meals and have a very good time. It's a very nice mix between foreign cultures for traditional Vietnamese celebrations for Tet festival.", elaborated Bourndain.
Married to a Vietnamese girl three years ago, Richard Woody of the United Kingdom has welcomed 8 lunar New Years in Vietnam. Before getting married, Woody visited Vietnam every year to experience the Vietnam's Tet atmosphere.
"What do I like about Tet. I suppose it's a good time of the year to see the family I'm married to. My wife is Vietnamese and to spend time with her family is really nice. We all come together. In England, that's not very common anymore. And then of course I like eating. The food is just fantastic.", said Woody.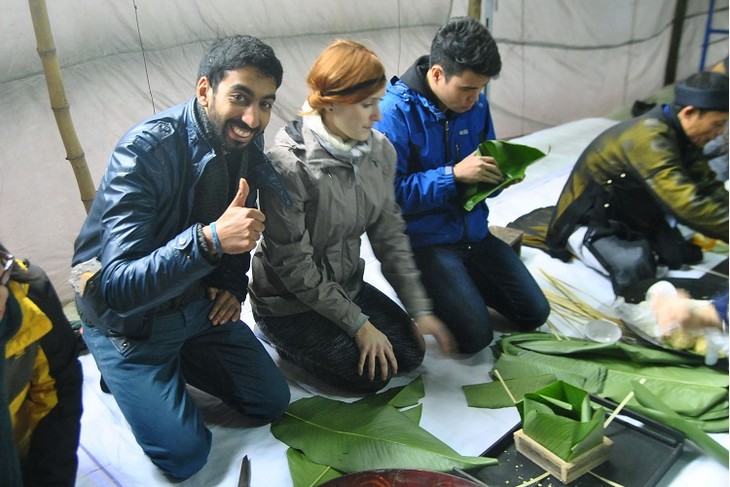 Foreigners try making Vietnamese "Banh chung" or square sticky rice cakes for Tet

Aphisat is a Laotian studying in Vietnam. Aphisat says he enjoys Tet celebrations in Vietnam for their rich and diverse cultural values: "For me, Vietnam's traditional lunar New Year celebrations are very meaningful and enjoyable. I was taught to make Vietnam's square glutinous cakes by my teachers which is not easy but really fun. My friends and I gathered around a fire to boil the cakes in a very big pot. I had amazing experiences during the Lunar New Year's Eve. I enjoyed it a lot with my friends during the first days of the New Year when we were given best wishes from our dear teachers, went to pagodas together to pray for the best luck in the New Year."
Nguồn: vovworld.vn