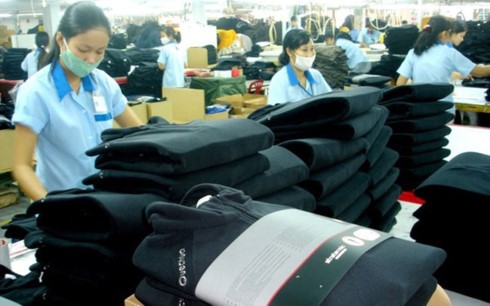 Vietnam's garment and textile sector expects to reach the export target of 31 billion USD set for this year. (Photo: Internet)
In 2016 and early 2017, orders from Vietnam's partner countries fell sharply. In response, domestic garment and textile enterprises have increased their investment in improved production systems, designed more competitive products, and sought new markets.
As a result, by the end of the third quarter the sector had earned nearly 23 billion USD from exports. Fourth quarter revenue is projected to reach 8 billion USD, raising the total export turnover to 31 billion USD, up 10% over last year.
If that goal is reached, Vietnam will rank 26th in the world for textile and garment export turnover.
This achievement is attributed to businesses' careful preparations and the government's policy to support the development of auxiliary industries. 2018 is expected to be a thriving year for the industry with 2-digit growth.
Nguyen Xuan Duong, President of the Hưng Yên Garment Corporation, said: "In 2018, there might be many orders and a great volume of products but prices will drop. It's a common trend in all markets and is causing headaches for Vietnamese garment and textile enterprises because all types of input costs including workers' salaries are on the rise. Increasing labor productivity through improving technology, equipment, and business management is considered the only solution."
Pham Tat Thang, a senior researcher with the Ministry of Industry and Trade, said Vietnam"s textile and garment import markets are experiencing unforeseen fluctuations caused by trade protectionism.
"Major markets are closing and this affects Vietnam. With competitors like Pakistan and China thriving, Vietnam must improve its competitiveness. Domestic companies should invest more in technology to catch up with the leaders tendency," Thang noted.
The industry's competition is forecast to become fiercer as breakthroughs in science, technology, and IT create rapid changes in production and supply models. Vu Duc Giang, Chairman of the Vietnam Textile and Garment Association called for combining production, development of technology, branding, promotion, and mastering of advanced technologies, especially made-in-Vietnam technologies.
He added: "We have asked the government to prevent the penetration of imitation brands into Vietnam. The Vietnam Garment and Textile Association has been developing many support policies to help the industry and companies in the field grow sustainably."
Nguồn: vovworld.vn