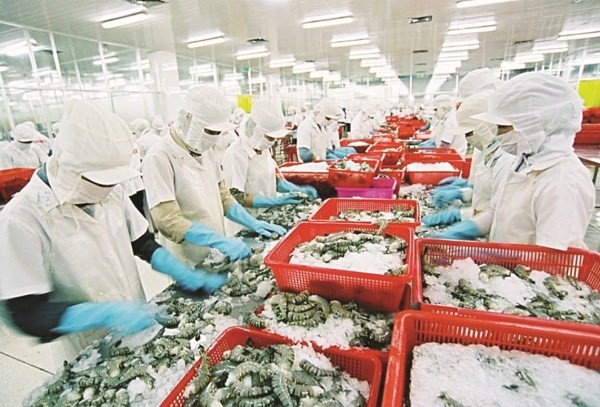 Shrimp is one of Vietnam's hard currency earners. (Photo: baohaiquan.vn)
To date Vietnam has signed and is implementing 10 regional and bilateral FTAs, including a framework agreement on ASEAN - China economic cooperation, an ASEAN - Republic of Korea trade in goods agreement, an ASEAN - Japan comprehensive economic cooperation partnership deal, an agreement on establishing the ASEAN-Australia-New Zealand FTA, a Vietnam-Japan economic partnership agreement, and a Vietnam-Chile free trade deal.
Among the FTAs to which Vietnam is a signatory, the EU-Vietnam Free Trade Area (EVFTA) is viewed as the most noteworthy, given its comprehensiveness, quality, and balance of benefits to both parties. Under the agreement, the EU and Vietnam commit to opening as much as 99% of tariff lines and trade turnover. A 0% tax rate will be applied to export items in which the two sides have strengths. These are garments and textiles, footwear, seafood, tropical agricultural products, and wood furniture from Vietnam and automobiles, machinery, equipment, pharmaceuticals, and temperate farm produce from the EU. EU businesses will enjoy incentives when investing and doing business in Vietnam, especially in financial and banking services, distribution, and transportation.
Deputy Prime Minister Vuong Dinh Hue said the EVFTA will ensure that Vietnam is a transparent business environment and will attract qualified EU investment to Vietnam.
He said: "The EVFTA and new generation FTAs together with positive outcomes of Vietnam's reform of its growth, investment, and business models and great potential can help Vietnam improve its relations with Belgium and the EU as a whole in all areas, especially in economics, trade, and investment."
Prime Minister Nguyen Xuan Phuc, who is also head of the National Steering Committee on International Integration, has ordered FTAs to be implemented efficiently while preparing for the enforcement of the FTAs of new generation. Ministries and sectors have been asked to conduct periodic reviews to ensure strict implementation of the documents, make a timely assessment of arising issues, and propose solutions to improve the efficiency of FTA implementation and carry out more communications programs to help enterprises and people make full use of the agreements.
FTA implementation and further integration into the world economy have helped Vietnam's economic development and modernization, and helped it expand goods and service export markets, participate more fully in the global value chain and production network, improve the export values of its key export items, and make its business environment more transparent and friendly.
Prime Minister Phuc said at a recent international economic integration conference that the Vietnamese government insists on a comprehensive integration policy with a focus on international economic integration and participation in FTAs.
"The Vietnamese Government considers international economic integration a driving force for economic reforms. It's true that integration has promoted economic growth and development," said the Government leader, adding: "Therefore it's necessary to focus on restructuring the economy in line with the socialist-oriented market economy mechanism, ranging from rearrangement of production and food safety to brand building and reform of growth models. It's also essential to promote an enabling government to fine-tune the institutions and create a better business environment."
Nguồn: vovworld.vn