The model of a grape growing area in combination with eco-tourism development is a new direction of Ninh Thuan's agricultural sector. (Photo: phanrangninhthuan.com)
Phuoc Thuan commune in Ninh Phuoc district plans to develop a 30-ha grape growing area in Phuoc Khanh village specialized for eco-tourism.
Under the plan, Phuoc Thuan aims to restructure crops, apply scientific and technological advancements in production and secure outlets for the farm produce of Ninh Thuan.
In the first phase, the commune has instructed local farmers to grow 10ha of grapes in line with the Vietnam Good Agricultural Practices (VietGAP) standards. Farmers have set up teams with 27 key members to implement the model.
Nguyen Duc Thuan, Chairman of Phuoc Thuan commune's People's Committee, said: "We have asked businesses and organizations to help farmers find product outlets and have worked with the provincial tourism promotion center to set up tours of grape fields in the commune."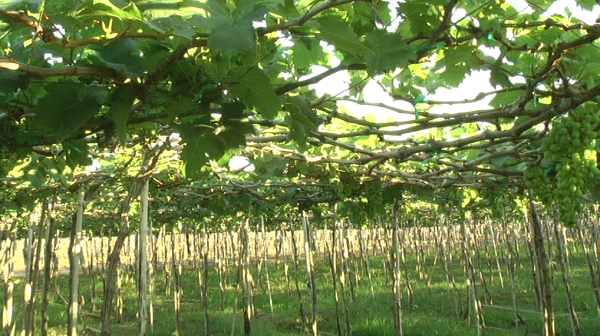 A vineyard grown in line with Vietgap standards in Phuoc Thuan commune, Ninh Phuoc district. (Photo: ninhthuantv.vn)
Thanks to production links, high-tech application, expert training, and coordination with businesses, the value of Ninh Thuan grapes has greatly improved. Nguyen Van Moi, owner of the Ba Moi vineyard in Ninh Thuan, said that once the model of large-scale grape fields is successful, local grape production will become a modern agricultural industry using more state-of-the-art machinery.
"Large-scale fields will enable businesses to secure product outlets and make market forecasts. Large-scale production will also enable quality control and transfer of technology," said Van Moi.
The large-scale grape field model is being expanded in Ninh Thuan next year. Each locality has its own model but they all want to support farmers to increase their productivity and find outlets.
Nguồn: vovworld.vn