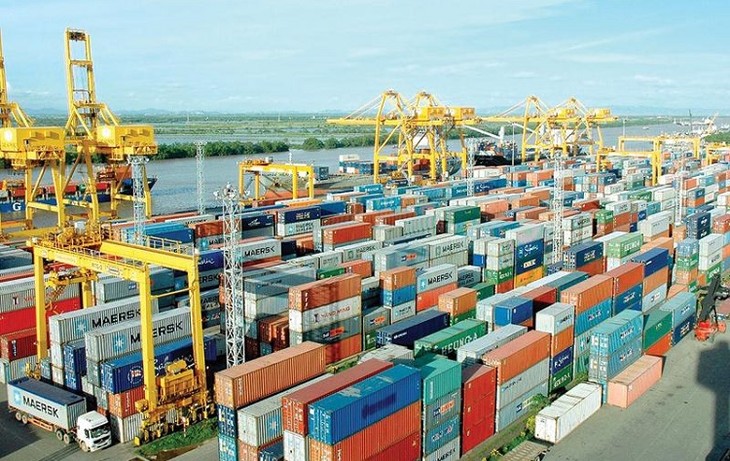 Tan Cang Terminal under Hai Phong Port, the biggest and most modern international port in Vietnam"s northern region. (Photo: Thanh Tan/baodautu.vn)
Statistics released by Hai Phong's Department of Planning and Investment show that so far this year Hai Phong has attracted more than 1 billion USD from 47 newly registered and 35 revised projects.
Last year, Hai Phong ranked second nationwide in luring FDI, which reached nearly 3 billion USD. Major investment projects include the 1.5 billion USD project by LG Display and 550 million USD project of LG Innotek. Investors say they selected Hai Phong for its potential.
Tran Thuy Trang, Deputy General Director of Jasan Company Vietnam in the Vietnam-Singapore Industrial Park in Hai Phong, said the company has 2 sock factories in Vietnam.
Trang told VOV: "Since the company was established, we have received support from the local administration. Currently we have 1,500 workers and plan to double the number by the end of next year. Jasan Company 1 began operations in 2015; Jasan 2 began operations this year; and Jasan 3 will start next year. In the next 3 years, we will continue to increase investment in Hai Phong to 50 million USD. Jasan group wants to raise its investment in Vietnam to 120 million USD in the near future. I believe Hai Phong is our true investment direction."
South Korean investors are leading investors from 36 countries and territories in Hai Phong with registered capital of more than 5.3 billion USD in 100 projects. They are followed by Japan with nearly 3.8 billion USD in 132 projects.
Hai Phong is implementing comprehensive measures to attract investment. They will implement a national strategy on green growth until 2020, focus their budget on key projects, especially in transportation infrastructure, and complete the infrastructure of industrial parks and industrial clusters, particularly the Dinh Vu - Cat Hai Economic Zone.
Hai Phong has defined strategic, potential partners from Japan, the Republic of Korea, and the US, and aims to attract investment in high-tech production, source production, and high-added-value products and solutions.
Le Trung Kien, Director of the municipal Department of Planning and Investment, said: "Improving the local business and investment environment has been chosen as this year's theme. We will continue to step up reforming administrative procedures and procedures related to the investment environment, land clearance, land access, and maximizing support for businesses. Hai Phong has promulgated a series of policies to meet investors' demands for an improved business and investment environment and personnel quality, quicker completion of administrative procedures, and fewer unnecessary regulations hindering investors."
Nguồn: vovworld.vn