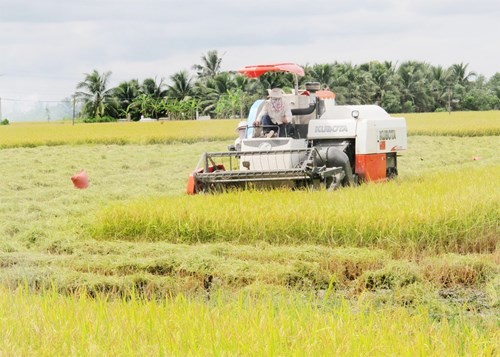 Large-scale paddy fields in Binh Dai district, Ben Tre province, an efficient model in economic restructuring in the Mekong Delta region. (Photo: qdnd.vn)
Vietnamese farm produce is sold in 180 countries and territories. Last year, Vietnam earned 35 billion USD from exports. But natural disasters triggered by climate change have damaged hundreds of thousands of hectares of rice and other crops. Climate change is threatening the food security of millions of people. Consequently, agricultural restructuring to mitigate climate change has become one of Vietnam's top priorities.
An Giang province in the Mekong Delta, a province with many agricultural advantages, especially in rice production, is one of the areas most affected by climate change. It has restructured its crop and livestock production in the direction of linking value chains and applying safe production processes and advanced technologies.
Tran Anh Thu, Director of the Agriculture and Rural Development Department of An Giang, said: "We have formed hi-tech agricultural areas covering 100 to 200 hectares and invested in irrigation infrastructure to grow fruit trees and other crops instead of rice and promote aquaculture. We have been very careful in crop restructuring while ensuring market for the new crops and their profitability as well as public consensus. The change needs to be consistent with the planning."
In addition to using sustainable agricultural production models adaptive to climate change, a number of advanced technologies have been applied, including tissue culture technology to improve forest trees, technology to produce safe vegetables meeting VietGAP standards, and hydroponic technology to produce vegetables in net houses.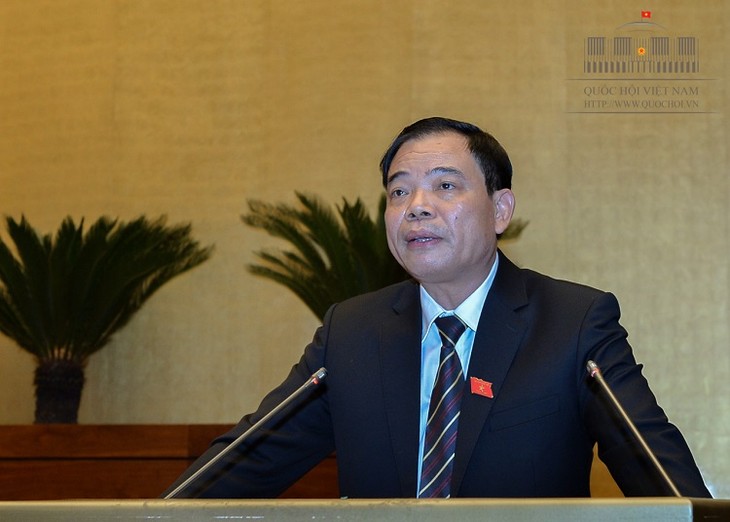 Minister of Agriculture and Rural Development Nguyen Xuan Cuong. (Photo: kinhtenongthon.com.vn)
Minister of Agriculture and Rural Development Nguyen Xuan Cuong said: "In the next phase, science and technology will be the key to promoting agricultural value chains to replace small holders. In this process, scientists and research institutes play a decisive role, becoming a "nucleus" to link farmers, enterprises, scientists, and the state. The Ministry of Agriculture and Rural Development will develop a cooperative mechanism to encourage new ideas to boost agriculture restructuring."
Vietnam has created incentives for enterprises to invest in hi-tech agriculture to create high quality products with greater added value. Localities have conducted planning for hi-tech agricultural production areas and focused on personnel training which are necessary steps for Vietnam's agriculture to respond to global climate change.
Nguồn: vovworld.vn