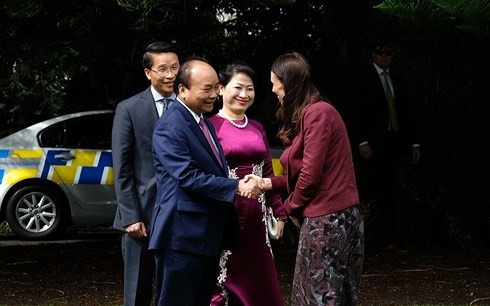 New Zealand PM Jacinda Ardern wecolmes PM Nguyen Xuan Phuc and his wife in Auckland, March 13, 2018. (Photo: VNA)
Two-way trade grew 30% to reach more than 1.2 billion USD in 2017. Prime Minister Phuc asked New Zealand to continue facilitating the export of Vietnamese fruits such as mangoes, dragon fruits, rambutans, star apples, grapefruits and longans to its market, and expand investment in mining, energy, infrastructure, hi-tech agriculture, education and finance in Vietnam.
The two sides agreed to maintain visits at all levels and strengthen people-to-people exchange. Prime Minister Ardern said that the two countries should implement specific cooperation within the newly-signed Action Program on defense cooperation towards 2021. The two sides need to promote affiliation in defense industry and research, while strengthening collaboration in fighting trans-national criminals, terrorism and drug trafficking, she said.
Prime Minister Phuc called for New Zealand's increased ODA for Vietnam, focusing on agriculture and rural development, human resource development, disaster risk management and climate change.
The New Zealand Prime Minister took the occasion to announce two new ODA projects to boost renewable energy and assist Vietnamese farmers to increase their income. She pledged assistance for Vietnam in human resource training and backed a direct air route linking the two countries. She also reiterated her support for Vietnam's role as ASEAN chair in 2020.
The leaders agreed to jointly implement the Comprehensive and Progressive Agreement for Trans-Pacific Partnership (CPTPP) and advocated negotiations of the Regional Comprehensive Economic Partnership (RCEP).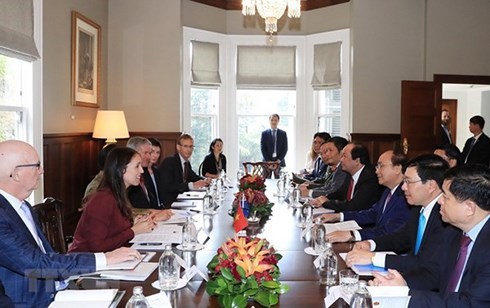 PM Nguyen Xuan Phuc and PM Jacinda Ardern hold talks in Auckland, March 13, 2018. (Photo: VNA)
During lunch with Prime Minister Phuc, Prime Minister Ardern said New Zealand places huge value on Vietnam as a regional partner and she is confident that Vietnam-New Zealand relations will be elevated to new heights in the near future.
Prime Minister Phuc said: "We have had successful talks and are glad to see bilateral ties flourish and mutual trust strengthened through high-level visits. At the APEC Economic Leaders' Meeting in Vietnam last year, Prime Minister Ardern delivered an important speech, contributing to the success of the event. Today, the 2 sides signed many important cooperative documents".
A joint statement issued the same day said that the two Prime Ministers agreed to advance the Comprehensive Partnership, effectively realize the Plan of Action until 2020, and conclude talks and consultations by next year on a Strategic Partnership in the near future.
New Zealand supports Vietnam's bid for a non-permanent seat at the UN Security Council in the 2020-2021 term. The 2 sides set the target to increase the number of Vietnamese students in New Zealand by 30% by 2020 through facilitating student exchanges, joint university programs and other cooperative activities.
They emphasized the importance of maintaining peace, security and stability in the East Sea through international legal obligations, respect for legal and diplomatic processes, a peaceful resolution of disputes, and freedom of navigation and overflight in accordance with international law, including the 1982 United Nations Convention on the Law of the Sea. The leaders encouraged the full and effective implementation of the Declaration on the Conduct of Parties in the East Sea in its entirety as well as the swift conclusion of an effective and substantive Code of Conduct for the East Sea.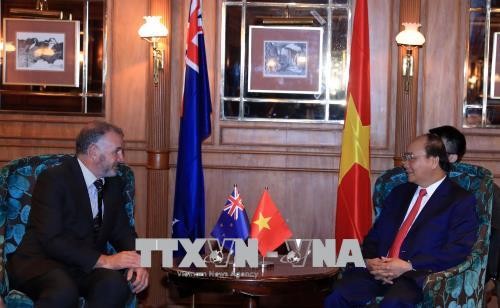 PM Nguyen Xuan Phuc meets New Zealand"s Speaker of the House of Representatives Trevor Mallard in Auckland, March 13, 2018. (Photo: VNA)
During his 4-day official visit to New Zealand, Prime Minister Phuc held phone talks with Governor-General Dame Patsy Reddy and met Speaker of the House of Representatives Trevor Mallard.
Nguồn: vovworld.vn